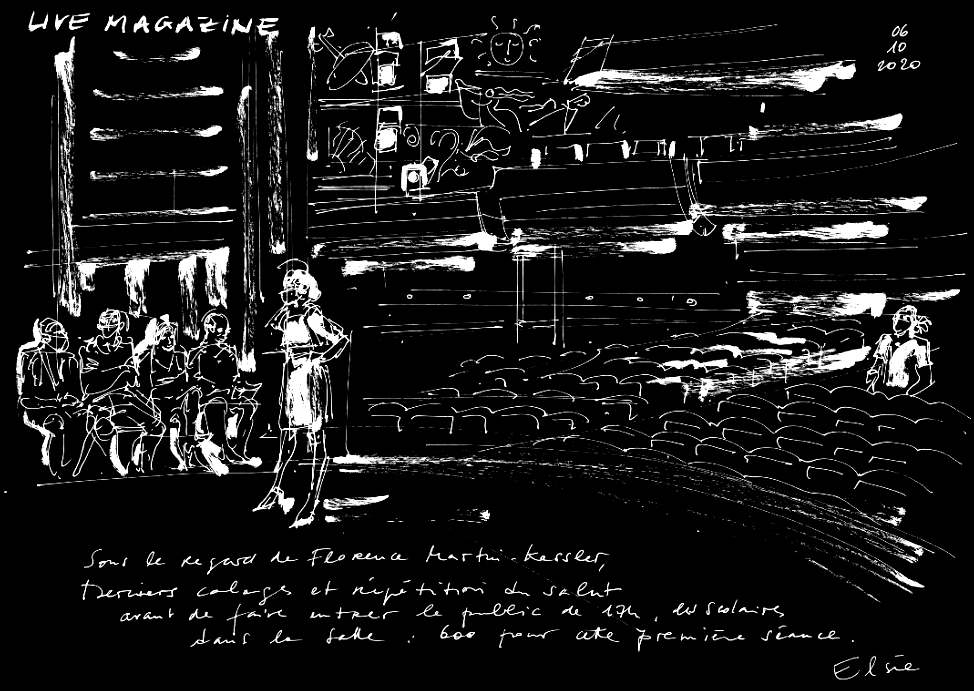 INDIA BOUQUEREL
India Bouquerel is the editor-in-chief of Live Magazine and head of European projects. She's been a screenwriter for television and spent many years on the English-speaking staff of the public television channel France 24 as an international news coordinator. She studied public administration, but finally chose news – the other civil service.
THOMAS BAUMGARTNER
is the co-founder of Live Magazine and an author, recently of a radio series on laziness entitled, A Summer Doing Nothing (Editions Méthode), broadcast on Radio Nova, where he was previously the editor-in-chief. Before that, he would talk about sound on Radio France Culture (for the shows The Sound Workshop and later Supersonic). In 2015, he created "On the Bench," an immersive sound project across Paris's parks with contributions from a dozen contemporary writers. He has published an ebook The Chinese Body of a Swiss Army Knife (Emoticourt) and a literary UFO: For a Long Time I Went to Bed Early, Out of Security Concerns (Le Monte-en-l'air).
ANNE-LISE CARLO
Anne-Lise Carlo is a journalist. She writes about architecture and design for Le Monde and M Le Magazine du Monde. In 2019, she directed the webdocumentary series Urbex Rouge. This long-term work, through the abandoned communist monuments of Eastern Europe, made the rounds of festivals and was a hit on Arte. In 2021, for her new series Toxic Tour, she went back to film other red zones of Europe, those laminated by industrial overproduction. Graduate of the Lille School of Journalism, she has always loved telling true stories, with her camera or her pen. In our Live Mag Académie training workshops, she never tires of seeing intimate stories and those first times when one says "I".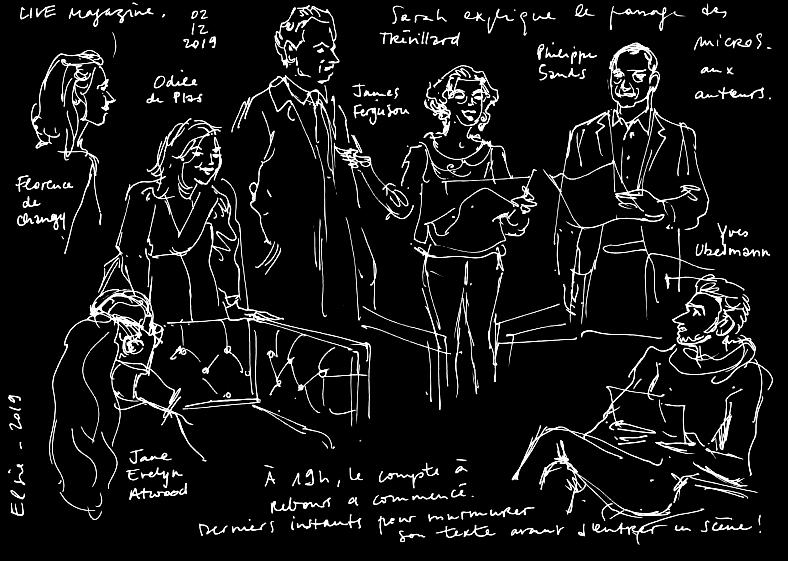 SÉBASTIEN DEURDILLY
Sébastien Deurdilly is the co-founder of Live Magazine. He is also the founder and CEO of the Upside Télévision press agency, producing 100 hours of documentaries, investigations and programs for public television channels every year. Prior to editing stories, he was himself a journalist, reporting on radio for Europe 1 and for television for France 5.
SONIA DESPREZ
is in charge of Live Magazine's special editions, as well as being an independent journalist. Following her childhood devotion to reading and synchronized swimming, she studied theatre and literature, and traveled widely – from the Himalayas to Patagonia – and from profession to profession, working jobs as diverse as actress, costume artist for the Lido, theatre production and cultural attaché for the French embassy in Belgrade (Serbia). Throughout these adventures, she kept diaries, web chronicles, and a blog. After becoming a journalist (for Le Journal du Dimanche, Grazia, M (le Monde), Society, A Nous Paris, Marie Claire…), she discovered Live Magazine, which blended her two passions – theatre and journalism – she almost fainted (from joy) and decided to join the team.
CAMILLE GHO
is an editorial assistant at Live Magazine. She helps with the writing of the shows, but also takes care of the social networks, and of the media education system: the Live Mag Académie. She is in her last year of a Master's degree in Cultural Journalism at the Sorbonne Nouvelle. Her thesis is about new journalistic narratologies. She has collaborated to the magazine America.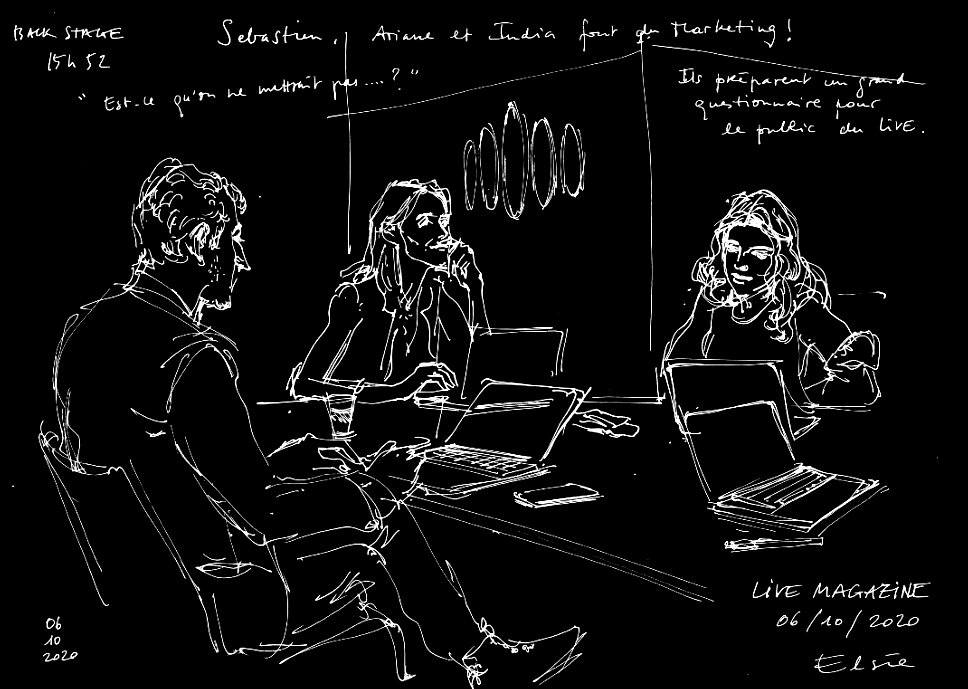 ELSIE HERBERSTEIN
is an artist, graduated from Arts-Déco in Paris. Her job is to make watercolor reports. She is backstage at each of our shows. For a long time, she went to Vienna, her native city, one week a month, to immerse herself in night shelters, rehabilitation apartments, and German courses for asylum seekers. She has written a book about this: Vienna, Land of Welcome. She also works on commission: jet set weddings, board of directors, film shoots. And her favorite brushes? Made from the hair of a small grey (a squirrel) or from marten (mink). And for the colors? Cerulean blue, cadmium scarlet, Naples yellow and burnt Sienna.
YVES HECK
is the coach of Live Magazine. He is also an actor. He was seen in Woody Allen's Midnight in Paris, alongside Isabelle Huppert in Mia Hansen-Love's The Future, in Robin Campillo's 120 battements par minute and in Ralph Fiennes' Nureyev. His passion for reading aloud inspired the concept of Tête de lecture, a literary performance show that has been touring France and Europe for almost ten years. He is preparing a feminist one-man show based on Au-delà de la pénétration by Martin Page.
RAJA KRIBI
is in charge of the graphic design, development, beauty and intelligence of Live Magazine's website from Tunis, where she founded Light My Web, a website management company. She graduated from CELSA and the French Institute of Press of Assas. She worked for the agency Be-Pôles, where she redesigned the online image of the Centre Pompidou. It was in 2010, at the dawn of a jasmine revolution that made her want to stay in Tunisia "because everything has changed, and it's also thanks to the Internet". It is from there that she manages the websites of the newspaper Le 1, the magazine Zadig and the magazine Légende. And that she makes the Live Magazine website blaze every day.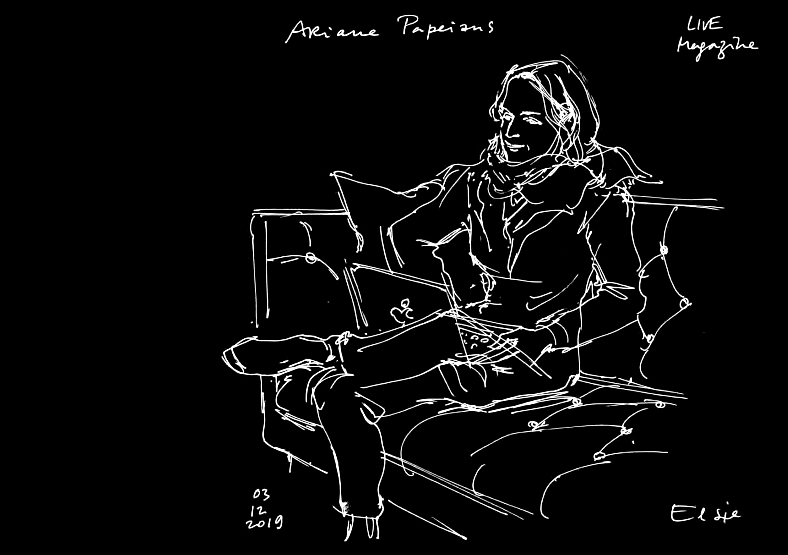 FLORENCE MARTIN-KESSLER
Florence Martin-Kessler is the founder and CEO of Live Magazine. She was a Nieman Fellow at Harvard in 2010-11, and sits on the boards of the CFJ (French Journalism School), and LaScam, the French Author's Guild. Her documentary work has explored the perils of building the Republic of South Sudan from scratch (for Arte television); the modern fate of Cambodia (for XXI), and the impossible challenges facing executive women on Wall Street (for the New York Times). She is a founding member of the jury of the Prix du Livre du Réel, France's first narrative non fiction prize.
XAVIER MUTIN
is Live Magazine's chief editor and technical director. As such, he is responsible for all the content – visual and sound, still and animated – that punctuates our stories. He holds a master's degree in audiovisual and multimedia from the University of Toulon. By becoming an editor he was able to live a thousand other lives: cycling down a mountain at 200 km/h, searching for missing hostages, riding a fishing eagle and falling in love at 85. He likes everything that is new and interesting: stereoscopic 3D, dynamic cinema and even the Internet: he edited one of the first documentaries made for a social network.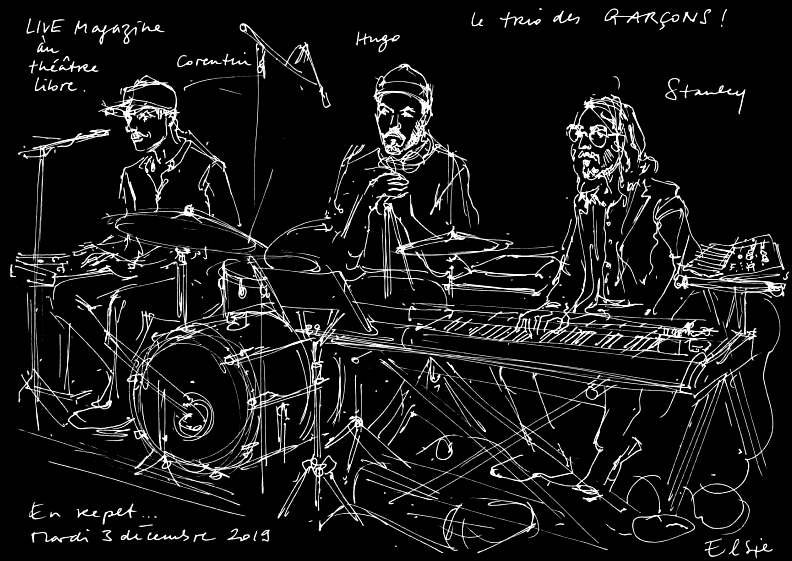 ARIANE PAPEIANS
Ariane Papeians is the producer and editor-in-chief of Live Magazine Belgium. She specializes in conceiving and creating unusual cultural projects: curating the definitive exhibition of the "Art Brut" artist Henry Brifaut's 500 works in a castle in Provence, co-creating the D*tours sound documentaries – immersive walks through Brussels on the boundary between documentary and fiction, launching a socially-minded circus in Salvador de Bahia.
COLINE SUIRE
is in charge of production and mediation for Live Magazine. She is also in charge of communication campaigns. She is finishing a master's degree in Cultural and Creative Industries at La Sorbonne Nouvelle. The subject of her thesis? The feminist photographic montages of Martha Rosler, Barbara Kruger and Linder. She did an internship for the Museum of Contemporary Art in Bordeaux. And then, thanks to Live Magazine, she entered the active life. So far so good.
OLIVIER REVEILLON
is the graphic designer of Live Magazine. Within the framework imagined by the be-pôle studio – a visual identity (magnificent), a typography (Universe) and a logo (thrilling) – he is the master of tastes and colors. He also has a job that makes you dream: in charge of "sublimation" at Kappa France, an Italian brand that also manufactures jerseys for soccer, rugby and basketball teams. Sublimation is a printing technique reserved for white textiles 100% polyester. So it's necessarily sublime. He is a graduate of the École supérieure d'art et de design d'Amiens.
LES GARÇONS
have been Live Magazine's sound designers since its beginnings. Stanley David de Lossy has also created a music school based around group learning (the Rock Lab, in Ixelles); Corentin Simonis does freelance marketing and PR work; and Nicolas Collaer is a professional drummer, playing in several bands: Vismets (rock), Atome (French pop), Alaska Gold Rush (alternative folk). Together, they are Les Garçons.
ZEID HAMDAN, SAMUEL HIRSCH AND FABIEN GIRARD
are poly-instrumentalists, producers and composers of music for the image: they lend themselves to the game of composing and interpreting the soundtrack of the shows. Samuel Hirsch is a bassist and founding member of the Arat Kilo sextet and director of 1000 podcasts for Arte Radio. Fabien Girard is a guitarist and founding member of the sextet Arat Kilo. RFI Instrumental Prize 2021. Zeid Hamdan is "the little prince of the alternative scene in Beirut" and, according to CNN, one of "the eight lights of Lebanese culture."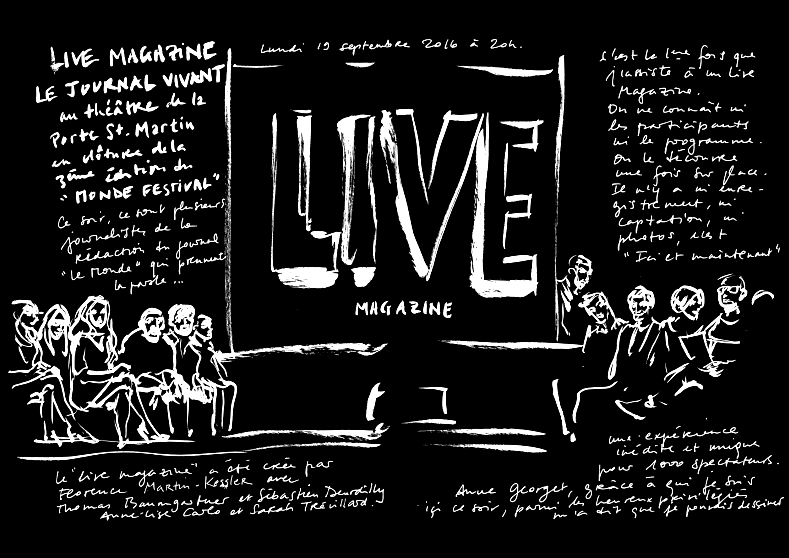 LIVE STORIES