FOR STUDENTS 13-18 YEARS OLD
LIVE MAGAZINE ACADÉMIE
What is a message, a piece of information, a story, an opinion, a source, a fact? Among the young people who have become totally knowledgeable on the subject: apprentice upholsterers (from Colombes), future beauticians (from Kremlin-Bicêtre), and apprentice salespeople (from Montereau-Fault-Yonne —very motivated, it's far from Paris).
HERE
What is Live Mag Academy? An invitation to the show for students – of junior high, high school, and technical school — as well as apprentices and dropouts, followed by a personalized visit and contest. After the show, it's the students who choose a journalist to invite to class. The Academy provides educational support and publishes the winning article about the show in a national media outlet.
Live Magazine Academy also exists in the form of a kit, a hybrid approach that consists of watching recorded stories from one of our shows and a visit from a participating journalist of choice.
JOURNALISTS GET
A CHANCE TO SHOW WHAT HAPPENS BEHIND THE BEHIND-THE-SCENES
AH THE JOY OF PLAYING WITH A REMOTE CONTROL THAT WORKS ON PARENTS...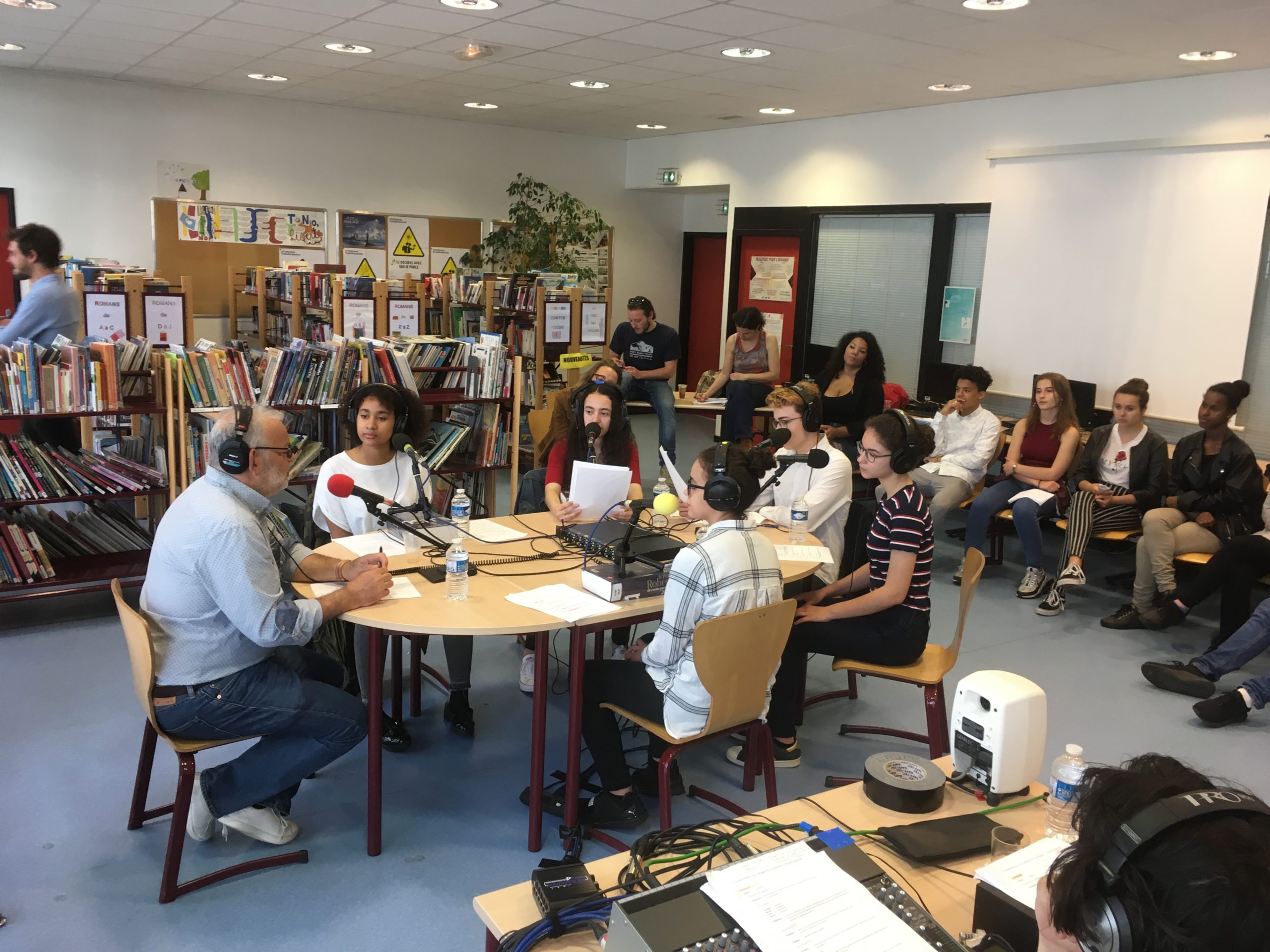 FOR 18-25 YEAR OLD STUDENTS
LIVE MAGAZINE WORKSHOPS
For those over 18, we've created a 40-hour training program in storytelling, public speaking, and self-confidence. Participants – groups of up to 70, with high-school degrees or an equivalency – are led by Live Magazine journalists, authors, coaches, and screenwriters.
We help participants develop stories and first-hand accounts, and to overcome stage fright – because on the last day, the curtains go up for a Live Magazine with ten fresh stories. They are often so good that we bring participants back for a real, "grown up" Live Magazine performance.
The perfect show for children and parents
Thoughtful and sensitive. Moving and poetic. Stirring and spellbinding
A great show, fizzing with imagination and emotion
live magazine
CHRONIQUES LAURÉATES 2022
Our jury chose the winners : for the Live Magazine Academy the 1ère HGGSP of the Lycée Richelieu in Rueil-Malmaison, who knew how to show rigor and inventiveness. For the Live Magazine Academy (kit), the 4ED and 4EH classes from the Collège Jean Moulin in Aubervilliers tied for first place, thanks to their investment and the quality of their thoughts.